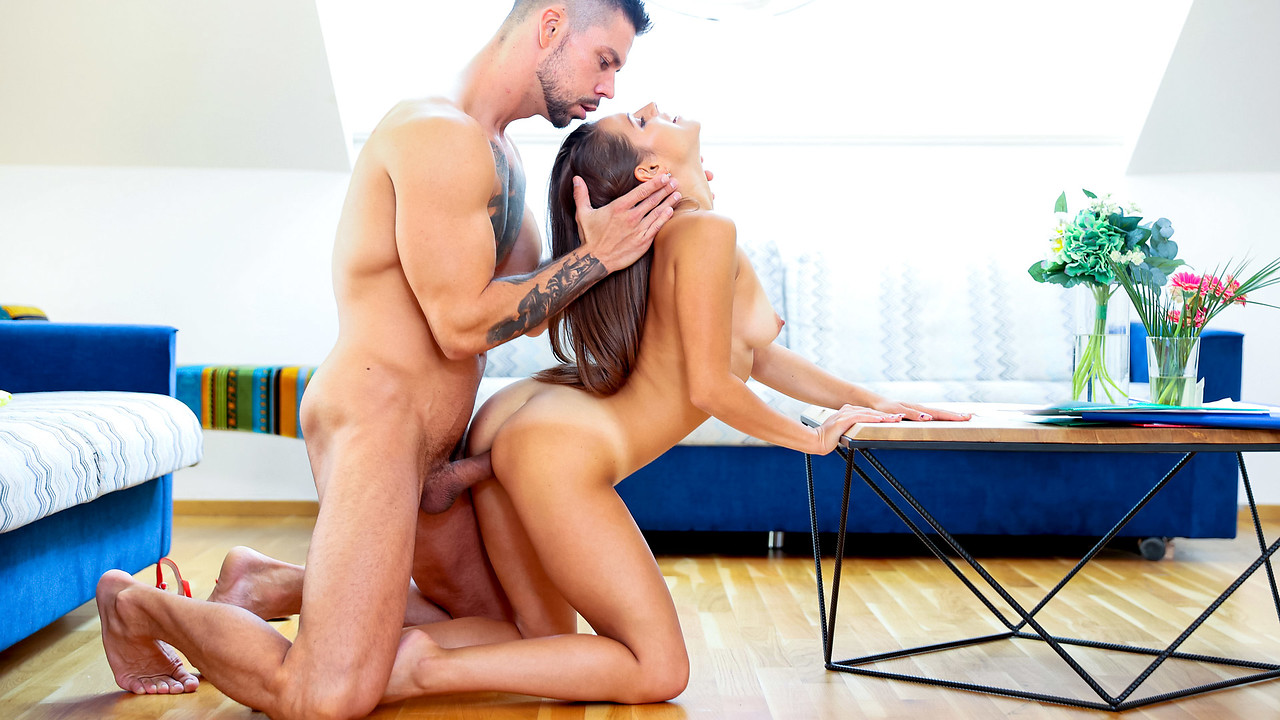 featuring


Angelo Godshack and
Serina Gomez.
Added On:
Jul 31, 2022
Description:
Serina Gomez has the hots for her boss, Angelo Godshack. She may be only his executive assistant, but she makes sure to dress as sexy as possible for every day of work. Today, though, Serina has decided to throw caution to the wind. After delivering Angelo's papers, she tells him that she has a surprise for him.
Angelo is so absorbed in the paperwork that at first he doesn't see what Serina is doing. She has time to strip out of her dress and throw it to the side before Angelo even looks up. He barely has a moment to register his hot assistant in her sheer bra and thong and her tall high heels before she is strutting across the room to shove him backwards into the couch and climb into his lap.
Since Angelo didn't get where he is by being a stupid man, he wraps his arms around the gift of Serina and goes for it. Their kisses are deep, but the just of Serina's generous breasts is a message Angelo knows better than to ignore. He relieves her of her bra and then goes to work worshipping her nipples. When Serina climbs higher on the couch so that her twat is level with Angelo's face, he gives her a good licking.
Serina isn't about to take without giving back. She shimmies to her knees in front of Angelo and unzips his pants so his fuck stick can spring free. Taking him in hand, she sucks the tip while stroking the shaft and root. Her blowjob is slow and steady, with no inch of Angelo's cock going untouched.
Still in charge, Serina climbs back up Angelo's body and holds herself in place on his shoulders as she slides down onto his dick. Rocking her hips gently, she gives herself time to get accustomed to her boss's big member. Then Serina turns around and goes for a much faster stiffie ride in reverse cowgirl while rubbing her clit. Leaning backwards, Serina hangs on for dear life as Angelo pistons upward into her creamy cooch.
Getting on her knees on the floor, Serina leans forward over the table so that Angelo can take her from behind. Her mewls of pleasure are music to Angelo's ears. Rocking back to meet her boss's thrusts, she makes it clear that she's in it for a big O. Angelo keeps giving it to her nice and deep, sating every one of her needs.
They take things back to the couch for one final go at each other. Serina enjoys a final pussy pounding on her back as she stares up her hot boss's powerful body. When Angelo finally brings her off, Serina returns the favor by sucking his cock until he gives her a facial of jizz that hits her open mouth and leaves her wearing a mask of his cum.