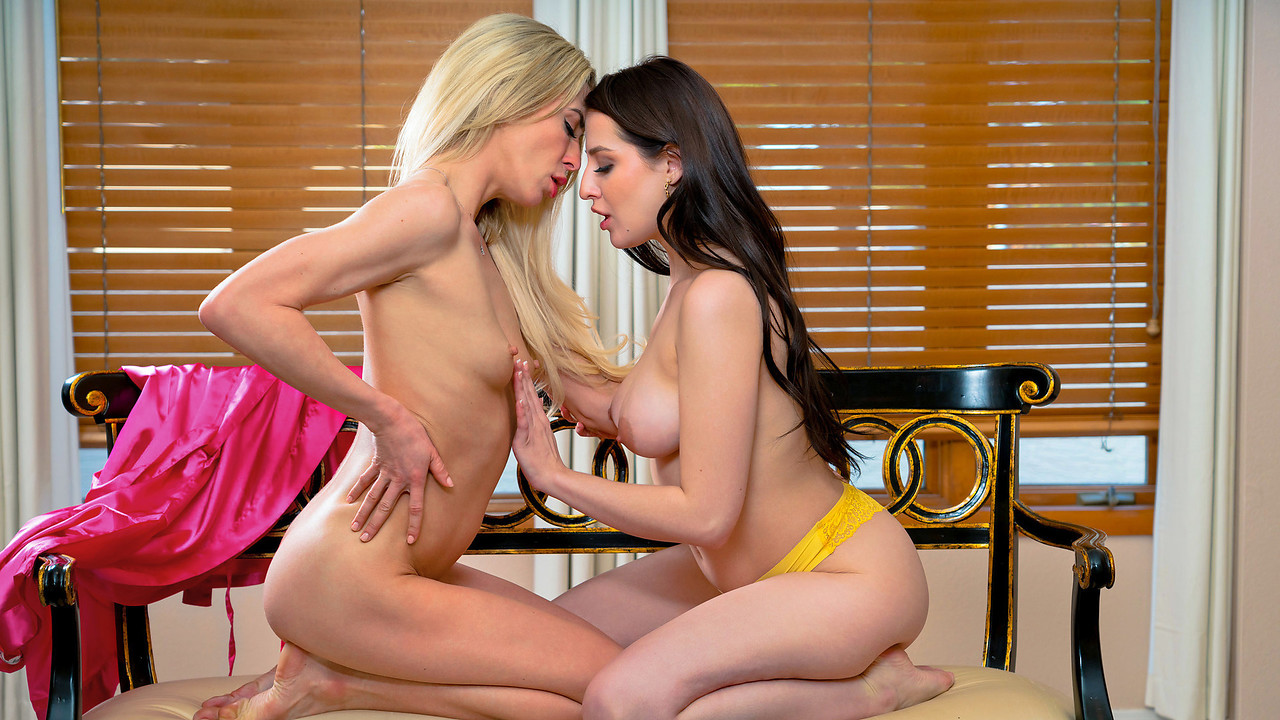 featuring


Aiden Ashley and
Aubree Valentine.
Added On:
May 22, 2022
Description:
Aiden Ashley has agreed to be the model for Aubree Valentine's painting. Aubree is just getting her materials put together when Aiden rings the doorbell. She shows Aiden in while flashing some plump ass cheeks that Aiden definitely checks out. Then she leads Aiden to the living room, where she has Aiden take off her clothes and pose.
When Aubree is finished, Aiden slips into her robe and comes to see. She loves it! In fact, she loves it so much that she leans in and plants a big kiss right on the lips. The mutual attraction between the girls is no longer something they can deny, so why fight the inevitable?
Holding hands, the girls return to the bench that Aiden has just posed on. Since Aiden is already functionally nude, she helps ease Aubree out of her clothes. As the girls get naked, they exchange plenty of searing kisses that leave no doubt about the way their encounter will end.
Easing Aubree onto the bench, Aiden fills her palms with her new lover's plump breasts. Aubree's hard nipples are a delightful counter to the softness off her tits. Even better is when Aiden slips Aubree's panties aside and slips her fingers down Aubree's slit to find her nice and wet. How can Aiden resist the urge to dip her head and settle in for a languorous pussy licking?
Aiden gets back all the pleasure she has given and more as she kneels on the bench and has Aubree come up beneath her. The angle is perfect for Aubree to reach up and grasp Aiden's hips to begin tonguing her clit and twat. Riding Aubree's face and mewling in delight, Aiden guides her new girlfriend in just what she needs to do to bring Aiden to orgasmic heights.
The girls can't be satisfied with just one climax apiece. Instead, they get together on the floor, scissoring pussy to pussy. Their mewls of excitement get louder and longer as they enjoy some lesbian tribbing. The closer they each get, the wilder and hotter their mutual caresses until both their hips are twitching in bliss.
Aubree takes that opportunity to immediately go back to work with her mouth. Laying on her back, Aiden throws her head from side to side and lets Aubree do her thing. She eventually tubs Aubree up to ride her mouth even as Aubree leans forward to continue rubbing Aiden off and fingering her fuck hole. That finally satisfies the two new lovers, leaving them sated for now but ready for another round ASAP.