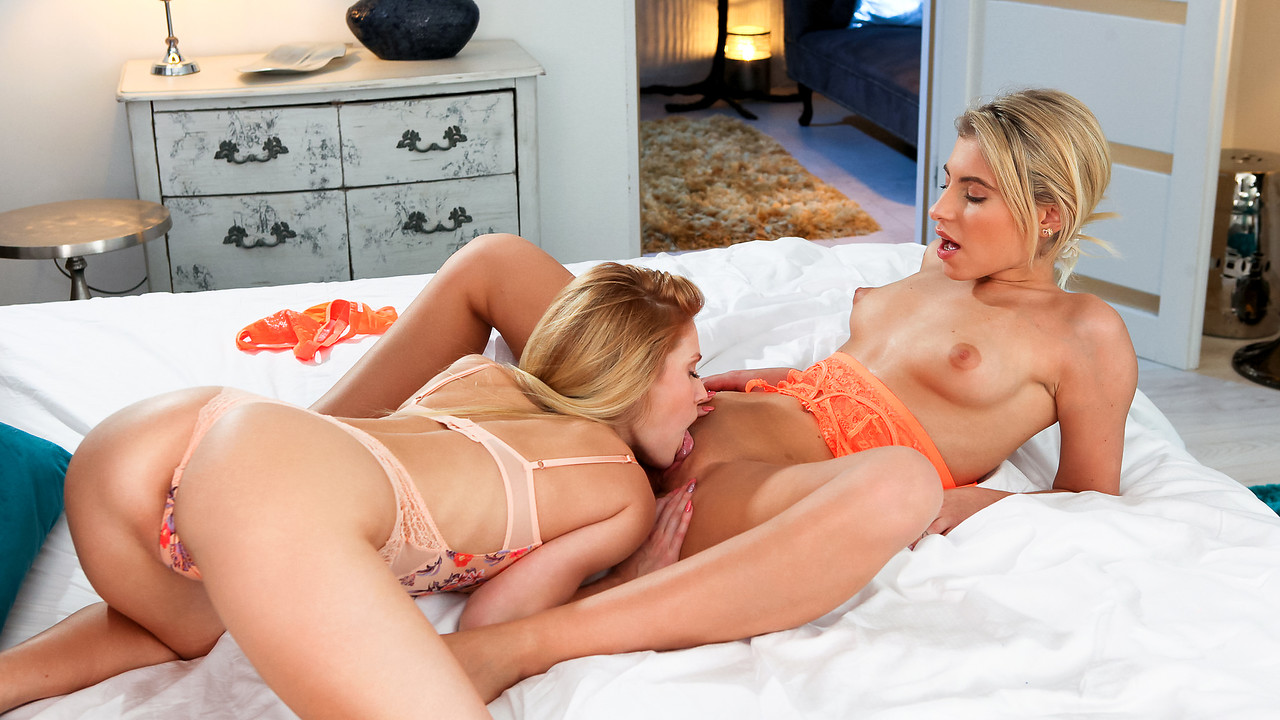 featuring


Candee Licious and
Lilly Bella.
Added On:
Jun 3, 2022
Description:
Candee Licious and Lilly Bella are ready for a girls night in. Dressed for sexy fun, they begin their bedroom romp by playing with the camera. Candee goes first as Lilly films. She begins by flirting with the camera, shaking her tits and ass in her skimpy lingerie. Then she lets things take an even sexier turn as she lays Lilly down in bed for some real fun.
Starting with Lilly's plump titties, Candee settles in for a sexual feast. She licks and suckles Lilly's nipples to hard peaks, making sure both are standing at attention before moving lower on her lover's body. Using her teeth, she tugs at the hem of Lilly's miniskirt to expose her girlfriend's cream filled twat. Once she has achieved her goal, Candee dives in for a pussy feast.
Licking and sucking along Lilly's pussy lips, Candee gives the camera a real show. She takes her time, sampling every slippery inch of Lilly's snatch. When Lilly finally lifts her hips in delight, Candee pulls back with a satisfied smile on her face.
Allowing Lilly to lay her back on the bed, Candee watches as Lilly begins the work of repaying the orgasmic favor. Lilly starts by peeling off Candee's bra and thong between kisses and sweet caresses. When Candee is nude, Lilly helps her sit up so Lilly can cradle Candee in her arms. Reaching low, she plumbs Candee's slick snatch with two fingers to really make her moan.
Getting on her hands and knees, Lilly wiggles her bottom to entice Candee to give her some more of that sweet loving. She gets exactly what she wants as Candee palms her tender clit. Grabbing a vibrator, Candee turns it on and then presses the buzzing tip to Lilly's clit. She holds it there until Lilly's hips are bucking, creating a maelstrom of sensual bliss.
It's Candee's turn next, and Lilly is ready to give as good as she's gotten. Holding Candee in a seated position with her thighs spread, Lilly presses the vibrator up and down the sensitive insides of Lilly's thighs. After licking the tip clean, Lilly places the vibrator to Candee's clit and refuses to let off until an orgasm has rocked her lover.
Although both girls are already feeling limpid with their pure pleasure, they're not done with one another quite yet. Climbing on top of Lilly, Candee pins her girlfriend dodwn and plants her tongue right back in Lilly's slit. The position of course lets Lilly return the favor in a lesbian 69 that really leaves them both fully sated.