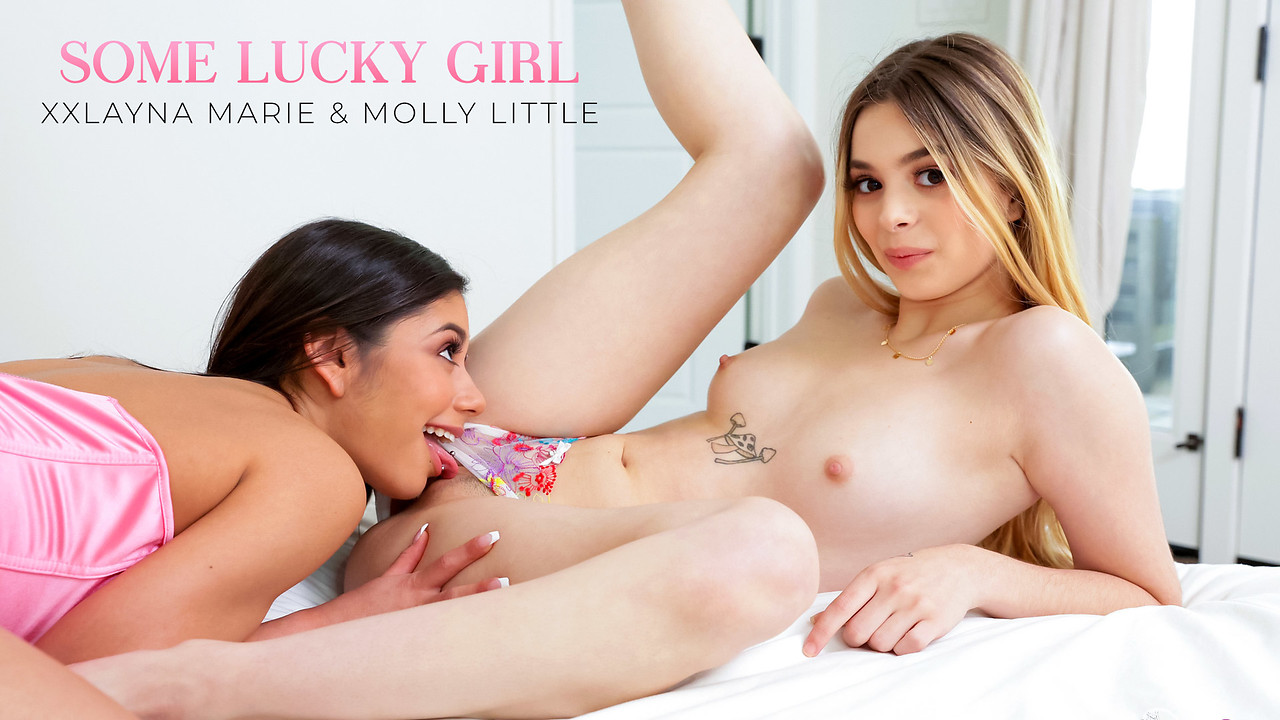 featuring


Molly Little and
Xxlayna Marie.
Added On:
Oct 29, 2022
Description:
Molly Little really wants to get fucked, and her intention is to find a Halloween costume that'll make her irresistible. Nothing seems to be working. She takes her time putting on costume number six in the bathroom. Peeling off her clothes until she's down to her bra and thong, Molly smooths her hands up her belly to cup her breasts and looks at herself in the mirror without enjoying what she sees. Once her costume is on, Molly is even more unhappy with her appearance.
Leaving the bathroom in a huff, Molly goes to her roommate Xxlayna Marie's room to complain. Xxlayna assures Molly that any guy would want to bang her. In fact, she tells Molly that she could go to the party in a white bedsheet and any girl would want to bang her.
Molly picks up on Xxlayna's slip of tongue. Xxlayna tries to backtrack a bit, but now Molly is curious. She asks Xxlayna about what it's like to be with a girl, and Xxlayna jumps at the chance to elaborate. She's had a crush on Molly for a while now, so the opportunity to run her fingers over her roomie's body in light little touches is one she's been wishing for.
Xxlayna offers to show Molly what it's like, and Molly is practically putty in her hands agreeing. Taking charge, Xxlayna pushes Molly back to pepper her with deep kisses. She works her way down Molly's body, kissing and licking with the occasional nip. Settling between Molly's thighs, she pulls the thong aside with her teeth and then makes herself at home lapping and suckling.
By the time Molly has melted with pleasure, her twat is nice and wet and soft. Xxlayna makes sure Molly has ridden out her climax, then works her way back up her roommate's body to let Molly kiss her own essence from Xxlayna's lips. Then she urges Molly to bring her to the same heights. Molly is game to try, tentatively using her fingers to slide on home into Xxlayna's sweet sex.
Pushing Molly onto the bed, Xxlayna straddles her chest. Easing down and backwards, she puts her snatch right above Molly's tongue, presenting the perfect pussy licking opportunity. Molly does as she's told, lapping away at those plump lips. At first Xxlayna simply enjoys the ride, but soon enough she has leaned forward to create a lesbian 69 that leaves them both gasping in delight.
Their pleasurable encounter isn't finished yet. Pressing her puss to Molly's, Xxlayna instigates a tribbing delight. Molly can't help the raw sounds of pleasure that come from her throat Crawling up Molly's body, Xxlayna captures her lips in one last kiss and then spoons behind her as they both come down from the high of their newfound relationship.