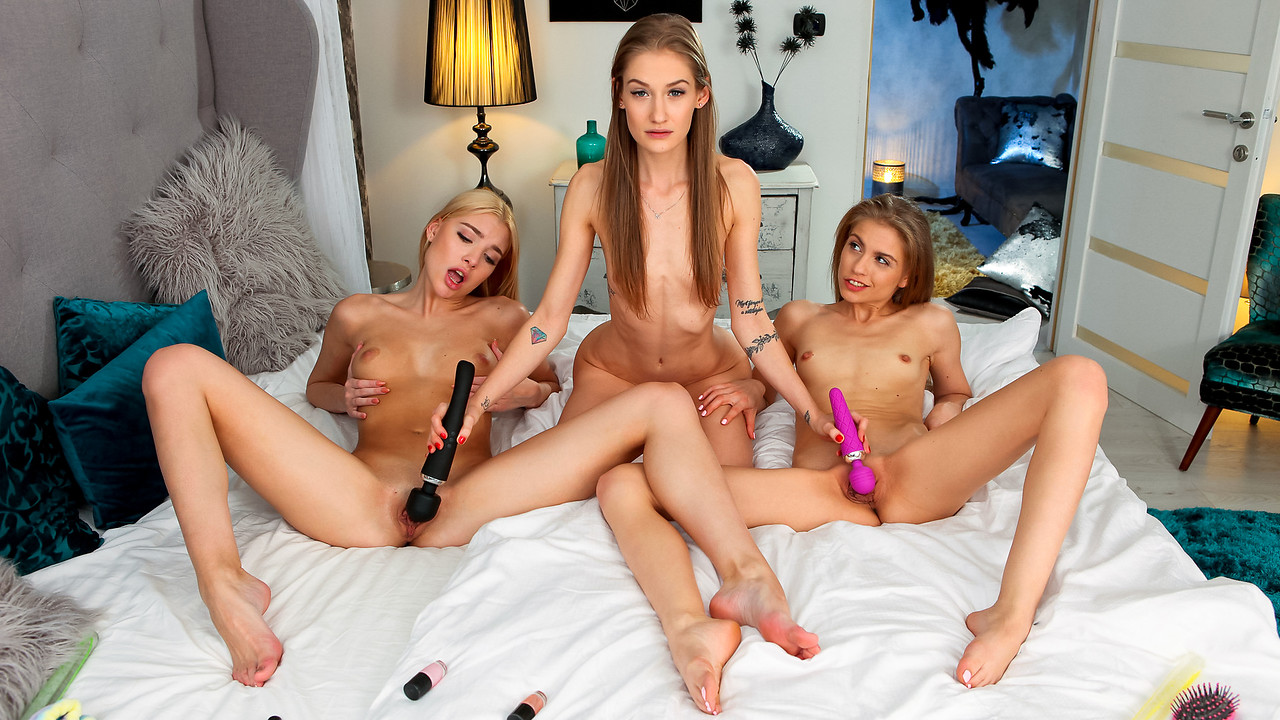 featuring


Bonnie Dolce,
Silvia Buntarka and
Tiffany Tatum.
Added On:
Jun 15, 2022
Description:
Silvia Buntark, Bonnie Dolce, and Tiffany Tatum have decided to have a girl's night in. They will have all kinds of fun painting one another's nails, doing each other's hair, and all the other things girls do behind closed doors. When they grow bored of blowing bubbles, though, things take a sexy turn.
Tiffany starts complimenting Silvia on her lovely bra and thong. She runs her fingertips along Silvia's neck while urging her to take the bra down for everyone to enjoy a closer look. That of course only stokes the passion of the other two girls. It's not long before the trio is taking turns sampling Silvia's lovely tits and peeling off their own clothes so they can have some all-girl fun, too.
Easing Silvia backwards, Tiffany cradles the blonde in her arms. Bonnie helps her out of her panties, then drops to her belly to begin sampling that delightful pussy. As Bonnie's tongue goes faster in her meaty twat, Silvia exchanges deep kisses with Tiffany to try to contain her moans.
Silvia ultimately finds herself on her back with Tiffany kneeling above her. Using her fingers and tongue, she stokes Tiffany's pleasure. Meanwhile, Bonnie continues to make herself right at home between Silvia's thighs with her own finger and tongue delight. The girls keep it up until Silvia's hips are bucking, signaling that it's someone else's turn to be in the middle. That someone is Tiffany, who gets on her knees to eat Bonnie out while Silvia gives her the same courtesy.
Tiffany is also the first to get some fun with one of the toys the girls have brought to the party. Holding Tiffany's legs back to open her up for their ministrations, Bonnie fingers her girlfriend while Silvia uses a vibrator on her clit. As they keep the sexual pressure up, Tiffany soon finds herself mewling as her entire body quivers.
The girls put the vibrator to use on Silvia next, curling her up just like they did with Tiffany to double team that greedy snatch. When Tiffany decides that Bonnie really needs her time to cum, she settles Silvia on her right and Bonnie on her left. Grabbing two vibrators, one in each hand, she presses one to each tender clitoris and keeps it there until each of her girlfriends has cum hard.