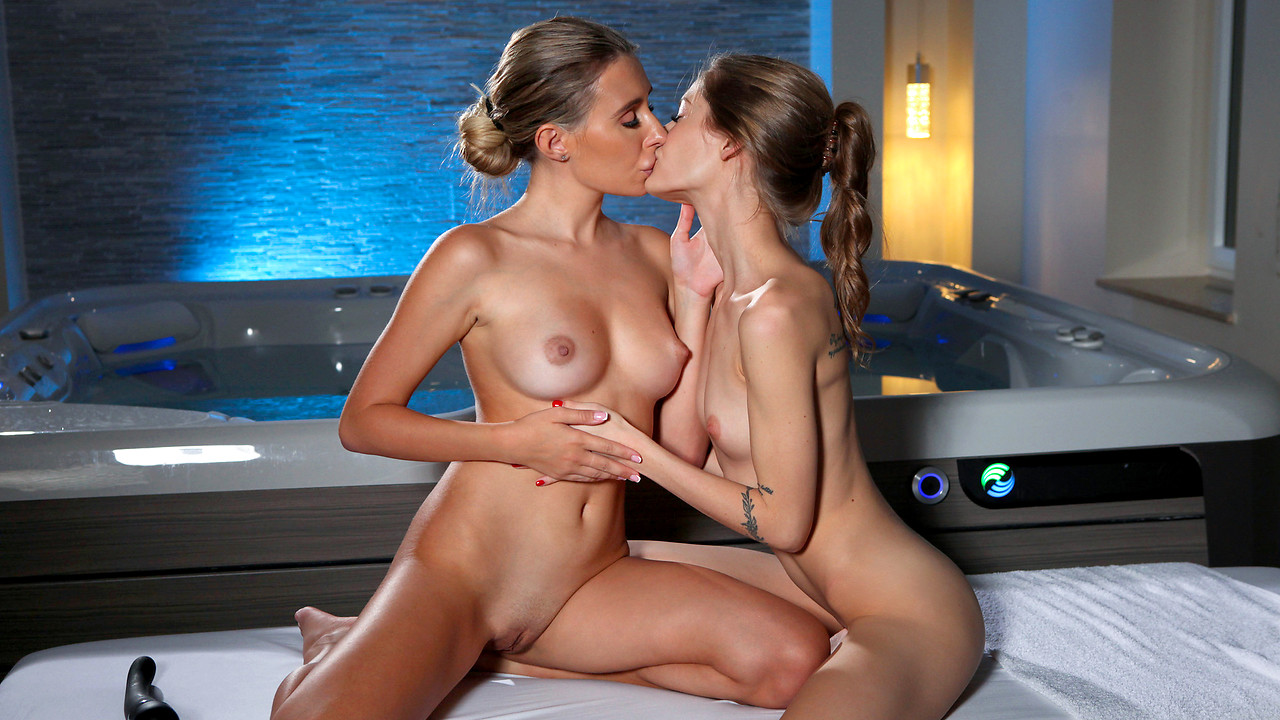 featuring


Tiffany Tatum and
Tory Sweety.
Added On:
May 2, 2022
Description:
Tiffany Tatum and Tory Sweety are taking advantage of their apartment's sauna and hot tub. Alone together, they make eyes at each other across the room as they caress their bodies in blatant flirting. It's not long before Tiffany gives in to the temptation to strut across the room and captures Tory's lips in a kiss.
Joining Tory in the hot tub, Tiffany lets the warm water caress her skin as she gradually works Tory out of her bikini bra. Her girlfriend's nipples are already hard in anticipation of her touch. She puts her hands and mouth to work immediately, palming Tory's big breasts and hard nips and then letting her tongue follow the path her palms have blazed.
Tory has enough time to tug Tiffany's one-piece suit down to reveal her smaller breasts before Tiffany insists on taking charge once again. Helping Tory onto the edge of the hot tub, Tiffany peels her out of her bikini bottoms. With no other barriers to get in her way, Tiffany leans in and uses her tongue to make Tory moan.
Feasting on Tory's twat is only the beginning of their lovemaking. They relocate from the hot tub to a nearby massage table, where Tory relieves Tiffany of her bathing suit entirely. Spreading her thighs nice and wide, Tiffany welcomes Tory between them. Tory is eager to demonstrate her prowess at oral sex on Tiffany's meaty twat.
Rolling Tiffany onto her side, Tory continues her sensual journey. She spoons behind her girlfriend and slides two fingers deep into Tiffany's creamy snatch. Pumping her fingers in and out, she finally makes Tiffany's hips twitch in sensual bliss.
Tiffany is quick to switch spots with Tory. On her belly, she licks and laps at Tory's bare twat as Tory throws her head back in delight. Her mouth alone isn't making Tory go wild, so Tiffany grabs a vibrator and presses it to Tory's most tender spots to bring her to orgasm.
Now that there's a toy to use, Tory wants to try it out on her lover. She helps Tiffany onto her knees and gives Tiffany's anus a nice lick before going to work. The toy is just what Tiffany needs to get her hips bucking one last time. Cuddling together on the massage table, the girls caress and kiss one another as they slowly come down from their sexual high.