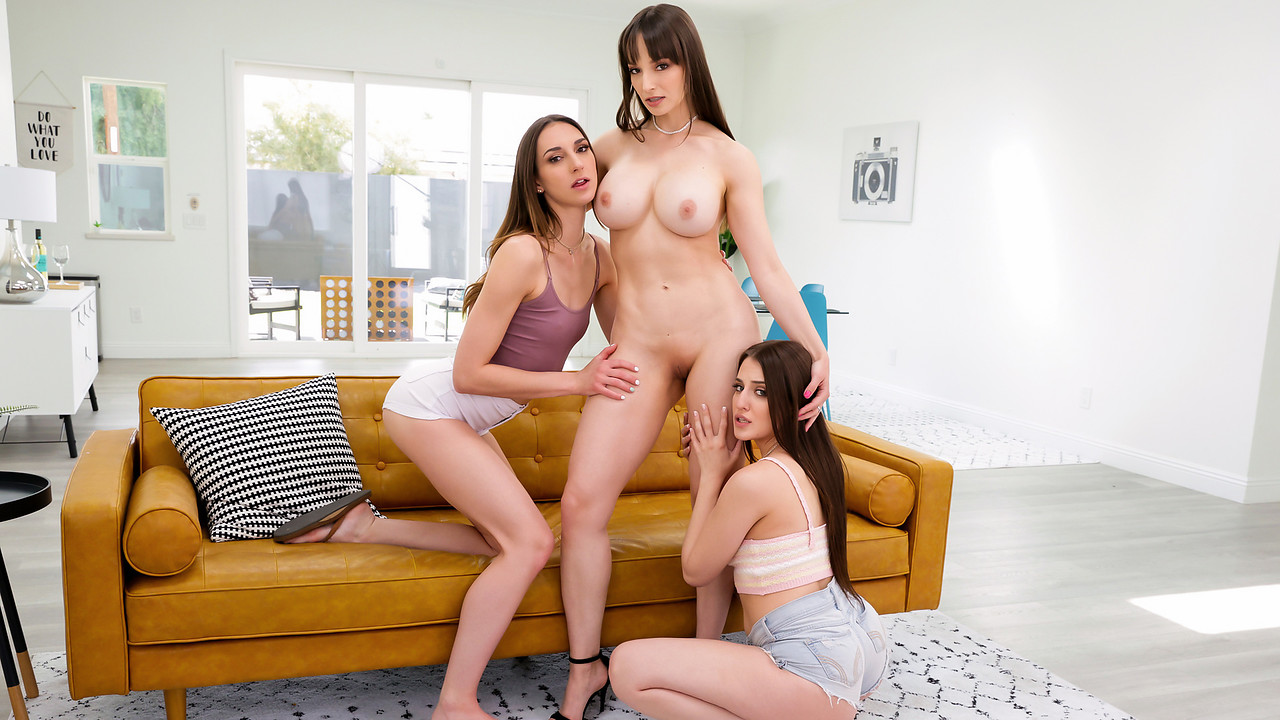 featuring


Andi Rose,
Aubree Valentine and
Lexi Luna.
Added On:
Jul 10, 2022
Description:
Aubree Valentine and Andi Rose have been in a relationship together for a while, in addition to living together. Their other friend, Ashley, has been telling them about how down her mom is about her recent breakup. Aubree and Andi have decided to cheer Lexi up by seducing her and letting her know she's still very wanted.
The girls arrive at Ashley's house and let themselves in when they know their friend isn't home. Lexi is a gracious host and invites them to wait. They make small talk, which leads Andi to suggest that men don't know how to pay proper attention to a girl. The girls really ham it up before Aubree asks if they can show Lexi something. Lexi agrees, so they beckon for her to join them.
The girls tell Lexi they want to show her how much they appreciate her. Lexi isn't saying no, not even as Andi and Aubree caress her down and pops her big boobies out to lick and suckle. Helping Lexi out of her clothes is the first goal, then getting out of their own is the second. Aubree strokes Lexi's ass as Andi gets naked. Then Andi and Lexi make out as Aubree gets on her knees and begins lapping at Lexi's clit.
Lexi shows some appreciation back at the girls as she helps Andi to take a seat on the arm of the couch. Kneeling on the couch itself, Lexi dives face first into Andi's slippery twat. Aubree kneels behind Lexi to continue her pussy feast, too.
Putting Lexi back in the middle, Aubree and Andi keep working her up into an even hotter sexual frenzy. Their kisses and caresses make magic, and soon enough Lexi is wetter than ever. Andi finally takes her turn enjoying those milf juices, sharing Lexi's twat with Aubree as they use their tongues and fingers to make that mommy moan.
When Lexi and Andi decide that it's Aubree's turn to indulge, Andi lays down on the couch. Aubree kneels above Andi's mouth so her girlfriend can eat her out. Meanwhile, Lexi presses herself pussy to pussy with Andi and rocks her hips for some lesbian tribbing. The trio is nearly sated, but not before they finish their afternoon with some mutual masturbation. As they all come down from their sexy high, Andi lets slip that the reason Ashley hangs out with them is totally the sex.