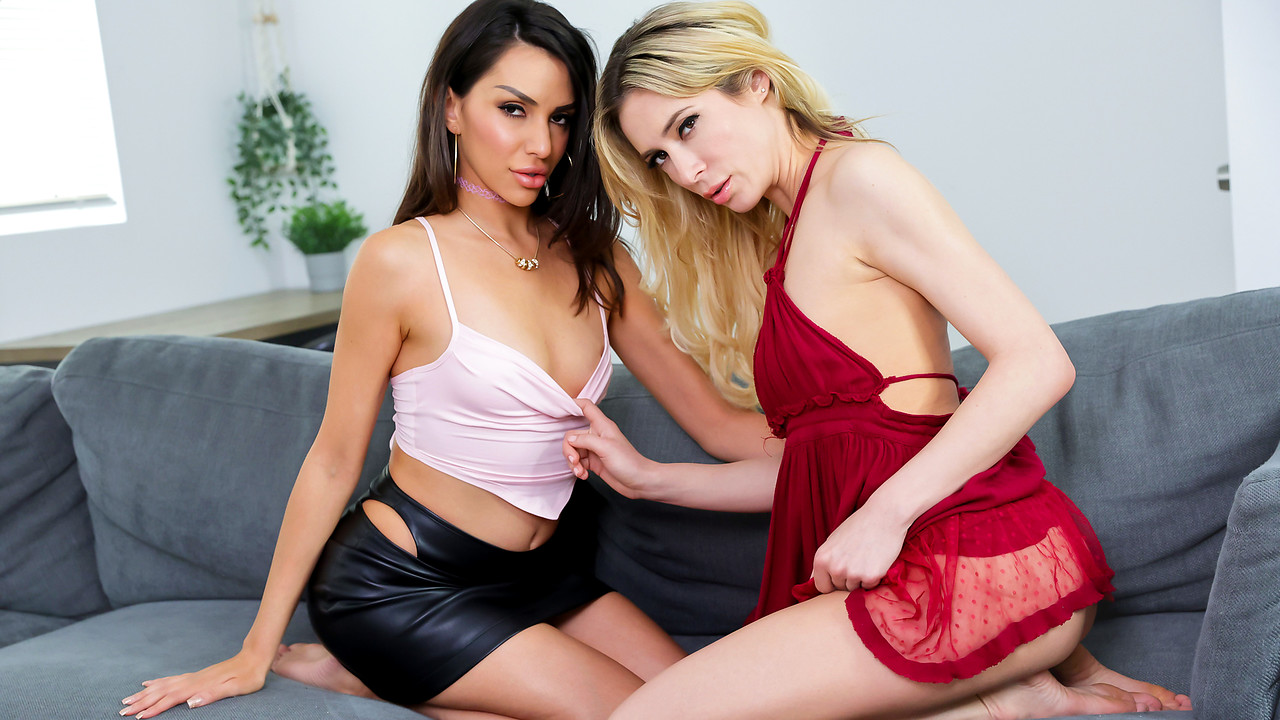 featuring


Aiden Ashley and
Hime Marie.
Added On:
Jun 27, 2022
Description:
Aiden Ashley and her friend HIme Marie are enjoying some girl time together. Since they work together, they gossip a bit about their coworkers. When Aiden confesses that she once had a one night stand and went to work in a club dress only to get written up, Hime wants to know more. She soon learns that the one night stand was a girl named Taylor.
Hime immediately demands all the details. Aiden is happy enough to share, but while she's spilling the tea HIme starts to touch herself beneath her miniskirt. Aiden calls Hime out on it, but Hime confesses it's just that she's always wondered what it's like to be with a girl. Aiden is happy to help her friend see exactly what it's like.
Slipping Hime's miniskirt high, Aiden finds that her friend isn't wearing any panties. That makes it simple for her to begin rubbing right at Hime's slick slit. As two fingers slide into Hime's twat, Aiden also turns her attention towards licking and sucking her friend's nipples into hard little peaks.
When Hime wants to try her hand at some female lovemaking, Aiden leans back and lets her friend pull her top down. Leaning nice and close, Hime tongues Aiden's small tits and explores the sweet, smooth skin. Letting Aiden gently reclaim control of their lovemaking, Hime allows Aiden to lay her back on the couch and spread her thighs for a full on pussy feast.
One Hime has mirrored the pussy licking Aiden just delivered to her, the girls switch things up further. Aiden lays on her back with Hime riding her mouth in reverse cowgirl. The position makes it easy for Aiden to tongue fuck her friend's pussy, creating a dimension of pure pleasure that Hime didn't know could come from another lady.
Hime insists on getting on her back and having Aiden do a tongue ride of her own. Aiden lets Hime try her hand at pussy eating from this angle, but eventually she leans forward to complete the lesbian 69. Using their hands and tongues, the girls bring each other to the brink and allow their pleasure to spill over into breathy moans of pure bliss.